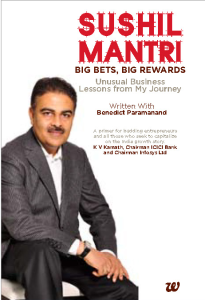 Excerpts from Gen. Ray's talk at the launch of
SUSHIL MANTRI – Big Bets, Big Rewards
In my eyes, Sushil Mantri (one of the four promoters of Indus Trust and MD of Mantri Developers) is a man who combines leadership and entrepreneurship well. This is like two sides of the same coin which is generally a very rare attribute. Reading this very lucidly written book, 'Big Bets, Big Rewards,' two things stand out.
Sushil Mantri is endowed with three competencies that are essential for a newage leader. In the Industrial Age thinking, people of ideas and people who executed these ideas were different. In the 21st Century, we have to be an idea man and an action man rolled into one. You have to have the ability to come with ideas and you got to have the power of execution to execute them yourself and I think that is where Sushil Mantri's strength lies.
The second characteristic is that he is a big picture man and he practices a directive style of leadership. My experience working with him is that he is very clear about his mission, his goals and more than that, he gives a lot of autonomy, and freedom to achieve that goal. If there is a single factor responsible for Indus Bangalore being the number one school in the country and for the other two schools in Hyderabad and Pune doing so well in so short a span of time, it is because of the autonomy he gives us. And autonomy to people who are capable, who don't have to look over their shoulders and say what do we do now? It's a great trait of a 21st Century leader.
The third is his ability to operate through uncertainty and chaos. I think in real estate, it's all about the ability to operate through ambiguity, uncertainty and chaos. This is where I find Mr. Mantri displaying these tremendous competencies. He is very comfortable with ambiguity; he thrives in chaos; his ability to turn disadvantage into advantage, in other words, looking for opportunity when things go wrong.
Sushil Mantri's journey from 20,000 dollars to 1 billion dollars in just about 14 years is a story of a man who has walked down the road armed with nothing but his vision. Against impossible odds it's a story of risk taking, of vision, of creativity, of courage and I think the narrative which this book is all about is an inspiration for all of us.
I would strongly recommend this book. I have learnt a lot personally from this book, very simple ideas, very practical ideas about business and you don't have to be a businessman to be able to understand and implement his ideas. There are a lot of lessons for business and there are a lot of lessons for leadership, both are two sides of the same coin. You can't have successful business; you can't have ethical business unless you are a great leader and a smart entrepreneur.
---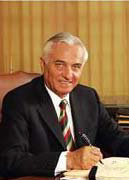 Lt. General Arjun Ray (retired) is any hardcore army man with a big heart. In his last assignment, he commanded the newly raised 14 Corps in Ladakh. His success in forestalling insurgency in the region by winning over alienated communities into the nation's mainstream has been nationally and internationally acclaimed.
In recognition of his services in nation-building, he was awarded the Param Vashist Seva Medal, the highest award in the armed forces for distinguished service. His success story in change leadership has been selected as a case study for business and management schools in India.
As CEO of the Indus Trust, he provides the vision and strategic direction to Indus International School in Bangalore, Hyderabad and Pune.
His book 'Peace is Everybody's Business – Strategy for Conflict Prevention (Sage 2012) has been well received.