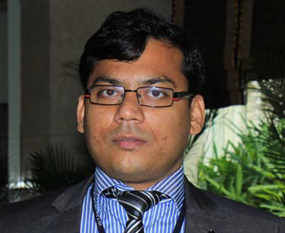 In India, a skill certificate today from a credible agency is more valuable than a degree certificate from a university for a lot of people. It is also a passport to good jobs and global opportunities and promises a premium salary. Ease of learning, ease of paying and credibility of certificate issuers are crucial differentiators between a few players in the market. Simplilearn, a new entrant in this market, is disrupting the way online education is delivered.
Simplilearn won the TiE Lumis Excellence award in 2012. Currently, it is training 3,000 people and plans to take this number to 7,000 to 8,000 professionals a month by March 2014. Krishna Kumar, founder of Simplilearn, shares his experience and the future challenges in conversation with Benedict Paramanand, Editor of ManagementNext
Is your certification for professionals or is it like a finishing school?
Anyone who has two or three years of experience can use our service. We focus on project management, HR, sales, customer service, IT security, finance, quality, among others.
We are focusing on skills which are global in nature. Once you acquire them you can use it in global markets anywhere. You get the same credentials whether you do it in India or in the US. The courses are flexible – either you can do online, 1-2-3 months subscription or you can do a mix of online and classroom. We call them blended courses. There are multiple options available depending upon your learning ability, speed or time available.
Who gives these certificates?
For different courses there are different bodies. They are both Indian and internationally well-known bodies.
What is your USP? Is it convenience, price, credibility or all of them?
Before we came into picture three years back, professional training used to take place primarily in a classroom. There was no concept of courseware as such. It was based more on the trainer – I am a great trainer, so you attend my course – types. We brought in the concept of courseware and at the same time, it is in line with users' schedule.
Is good faculty a challenge?
We are changing this paradigm. If you look at our website nowhere we talk about faculty, yet, we train maximum number of participants in the country. We say – here's a course, you can look at our sample courseware, get free access to it for some time, try our tests to see how well prepared you are, get your doubts clarified whenever you want. In a way, we are saying that faculty is not important.
Interesting model! Do you use largely legacy content or live video-based classes?
We don't do video, we create courses for online delivery, we design the course ourselves so that it can be delivered online. Suppose some concept has to be taught, we create courseware on how to introduce the concept. We are focused on professional certification. Our focus is on people who have a job.
We are looking at porting these courses on mobile. We are looking at Android and IOS systems.
How expensive?
There isn't much of a difference in pricing, perhaps we could be cheaper by 10 percent compared with conventional course providers. We are not selling it on price, it's more of an integrated model, classroom is the starting point and then you complete the entire training online. There is a relationship angle to it; there is a commitment that we will support in all possible ways with the objective that the candidate clears the exam. We also offer 100 per cent money back guarantee. So far hardly anyone has asked for it.
What are the new areas that you will be focusing on?
We started cloud computing recently. It's popular now.
Certification challenges in India
Currently, we are affiliated with not-for-profit bodies. Most of them are US or UK based. So when they define their skill requirement it is more aligned to their geography and their local market needs. In India we need the government to set up a body that can clearly identify competency standards needed for a particular job and create a system to test that. This will help in the certification process fine tuned to the Indian context. The Indian industry should help in setting a basic skill standard.
Give me the big picture, what's exciting?
We are already quite big in India in terms of number of users. We are going after even bigger players like Skillsoft. They are quite old, sitting on legacy data, courses and dated technology. We are looking at all the course offering from a fresh perspective. Our ability to design a better product compared is quite high. Interestingly, we were not the first ones to provide these courses, yet, we offer a better experience and several value adds.
What are the challenges for your growth?
We have to expand beyond India, especially to the US market. Being relevant to that market will be a challenge.
You don't have IP on any of your content?
Yes. All the courses are owned by us, created by us, the certification body lays out the syllabus and they have a guide which talks about how the topic needs to be approached; the entire courseware is done by us. That takes time; it takes us six months to do a decent courseware.
When you say we are better what do you mean?
Education is a very subjective area. Look at the competitors, if they do training, the kind of courseware they talk about is a book, but there is no audio video content to support that, there are no online practice tests, there is no analysis. The moment users subscribe to us, their learning process starts. The moment they swipe their credit card, they get access to courseware. The courses are also designed keeping no prerequisites in mind.
What's your pricing strategy?
We are not cheap. We could be only 10 percent cheaper than our competitors. People are not so bothered about price; first they want to get convinced about the quality.
What does moving up the value chain mean for you?
To continuously improve our courseware. If our customers take even one course from us, we treat them as our partner for life. We will increase our course catalogue exponentially.
How deep is the learning here for your candidates? Is it just enough to do the work or is it also closer to knowledge management?
It's more practical as it is offered by professional bodies. It is more on learning the tricks of the trade, knowing the best practices and what to do in a particular scenario.
How do you get your courseware?
We have a framework for developing a course; we take raw content in a particular form so that we can work on it further. We rely on global sourcing for content. Creating a good course takes time; I think that's our differentiator. Most other courses just put out PPT and call it online course. We write the entire story board.