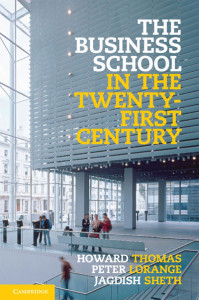 Even after fifty years of teaching, Prof. Jagdish Sheth, 75, is busy talking and leading innovation in management education. He is proposing radical changes in the content and structure of management teaching both globally and in India. He is now strongly advocating global exposure during internship, starting of MBA soon after 10th standard, compulsory teaching of humanities among other things. Excerpts of his talk at the launch of 'The Business School in the Twenty First Century – Emergent Challenges and New Business Models' in Delhi recently.
We have suddenly discovered the big gold mine isn't in America or in Europe but in emerging economies. The Indian School of Business is doing fantastically well in their second campus as well because their faculty comes from world class institutions.'
My view is that in the Indian situation, we are definitely having a shake out. What is peripheral will become core and what is core will become peripheral. This is what we are seeing clearly out there. Online courses are becoming very popular. So the paradigm is changing.
Now since we have world class faculty coming in what's the threat? My view is that our MBA programs will continue to thrive especially at respected institutions where we have brand equity, good curriculum and good placement. Politicians, IAS officers need business degrees, so there is a new market and we are so entrepreneurial that we will figure out how to offer them.
There will be other major opportunities. I believe that one of the key ingredients for MBA is going to be creating global reputation and the way to do it is to go out of your way to seek global accreditation, not just domestic accreditation. Even if you are certified by AICTE, it doesn't make any difference either in the demand side or the reputation side from attracting faculty.
Going Abroad is a Must
My passion in distance education in this country is in the undergraduate segment. We can create the IITs of business schools which begin from 10+2. That pool is large but don't train them like typical commerce majors. It should be a 4 year program, the first two years liberal arts is mandatory. Nobody can lead or manage without having humanities in their own understanding. In my generation we started with accounting right after high school and then business education the next two years. This is so much needed, the market is so large and then like IIT graduates they immediately go into corporate world and not into consultancy.
I have been creating programs where in the second year after the liberal arts education a student has an internship in a company and then you link it with a university where they get an MBA from a world reputed institute. Cost is low and they get the global experience. We are now insisting that going abroad is not a choice. Internships should be done abroad as part of the program. We used to do it for executive MBA but now it's for every student. In our distance program also we are going to mandate that they have to go abroad for their internship. That is how the reality is going to be. Business Schools in the US are going through a mid-life crisis and need an alternative business model. If Indian business schools don't watch out, they are headed that way unless they can do some reverse innovation. But that can happen only by law in India.
Tool to Assess Impact of Business School on Community
EFMD launches Business School Impact Survey, a key tool for measuring a business school's impact on the world. EFMD is a leading international network of business schools and companies (820 members / 82 countries) at the forefront or raising the standards of management education and development globally.
Prof. Eric Cornuel, CEO & Director General of EFMD said, "BSIS is a vital addition to the EFMD portfolio of services as it provides a process and tool to capture the value that a school brings to a defined region. It is a service for any business school anywhere in the world that is interested in collecting key statistical data on its impact. Once collected this information can then be used both internally and externally with key stakeholders to widen the debate about "the role of business schools in society" and showcase the enormous added value and impact they bring to a community."
The BSIS tool identifies the tangible and intangible benefits that a business school brings to its local environment. A business school also provides an important intellectual forum for the introduction of new ideas in a wide variety of social, cultural and political areas of concern within a region. Last but not least, it contributes to the image of the city or region.
"Demonstrating the many ways in which they add economic and social value to the environment in which they operate has become a challenge for business schools. To meet this demand for greater accountability, BSIS is an effective tool to help schools identify, measure and communicate all the positive contributions they make to the world around them.
At a time when all organizations, public or private, are being held accountable for their activities, there is a need to demonstrate the impact that they are having on their immediate environment. This is particularly the case when they are financed or politically supported by local stakeholders.
If you would like further information or are interested in your school taking part you can visit www.efmd.org/ bsis or email bsis@efmd.org
Exempt Faculty Salary from Income Tax
Dr. (Col.) A Balasubramanian's President of Sri Balaji Society, which operates several educational institutions, has given his wish list for improving management education. Here's an excerpt:
As long as there is industrial growth, MBA education will be in demand. But what matters is quality. The quality depends on the faculty, which at present is in acute shortage. Quality faculty in B-Schools cannot be traced purely on academic grounds. Until and unless the practitioners from the industry join academics as full time staff, the quality up gradation will remain only on paper.
If you want to attract quality faculty, the Government of India has to take benevolent and drastic measures. One such step would be to ensure that the salaries of the teacher and faculty should be exempted from tax. Whatever one may say it is a fact that the corporate sector provides growth and good compensation/ remuneration; therefore, the B-Schools have to match this demand when they hire industry-faculty. The unaided B-Schools as it is are mobilizing all resources and living hand to mouth. The current system of taxation would cause the faculty to pay out 30 percent of their meager salary as tax.
The other requirement for the industry people to join B-Schools is their appointment should be based on their experience rather than outdated or irrelevant PhDs. Management science should not be treated as pure academics. If only doctors can teach medicine, lawyers can teach law, only management professionals from corporate sectors should teach core management subjects in B Schools. This is what is happening in good B School in developed economy.