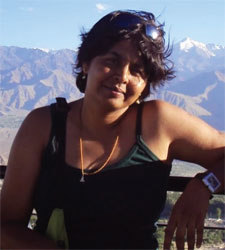 Kavitha Reddy, 41, is unreal. She is a founding member of India's highly successful staffing company TeamLease; has climbed a 7075 metre peak, Mt. Satopanth; is a leadership trainer, a motivational speaker and raises funds for an NGO by selling her photographs.
What's all this got to do for people facing mid-career blues or even mid-life crisis? Find out from this chat she had with Benedict Paramanand, Editor of ManagementNext
What are the unexpected and unusual learnings for executives who take part in adventure activities like yours?
In our outdoor and adventure activities there are many unexpected learnings which are not visible in classroom training. Activities are conducted in unknown and unfamiliar territory, that itself takes away the comfort zone executives are used to. Such activities help in recognition of leadership types/styles because every person has her style and instead of trying to follow a style, it encourages them to strengthen their own styles.
They are also exposed to aspects of conflict management, co-ordination, risk-taking, multi tasking, resource management through our outdoor/adventure activities in a very practical and visible way.
Why is doing way of learning so important compared to other forms?
I believe in Dale's Cone theory that people generally remember only 10% of what they read, 20% of what they hear, 30% what they see, 50% of what they see and hear, 70% of what they say and write and 90% of what they do. So these activities help us to analyze, define, create and evaluate.
Today, executives in their mid or late 40s are going through mid-career/mid-life crisis. How can adventure sport help?
I recommend outbound training strongly for professionals in their mid-career. They are the most stressed and need to realign their lives if they have to enjoy the rest of their career. They need to learn to unlearn more than learning new stuff.
Mid-career is where one questions/confronts oneself on many issue like career path, objectives, lifestyle, family, finances, taking risk etc. Outbound training can de-stress, re-assure and help them unlearn and help in articulating their new challenges and how best they can face them better.
Why do you say your company is unique?
We have built Basecamp, since 2009, as an all-women promoted and operated integrated adventure, outbound training and consulting organization.
We offer adventure sports across all terrains – Land – trekking, hiking, rock climbing; Mountains – climbing, expeditions, skiing, high altitude trekking; Water – rafting, scuba diving, kayaking; skies – parasailing, paragliding, bungee jumping and General Interest – bird watching, nature photography, rural tourism and more.
What's been the advantage of having an allwomen team?
More women join our treks, events and programs. Many are initially curious but not apprehensive when we tell we are a all women team, but they feel that we are more focused. We do work harder and get all the required training compared to a majority of adventure tour operators as we know we are competing in a man's world. But we have never been discriminated by participants/corporate/ institutions because of our gender.