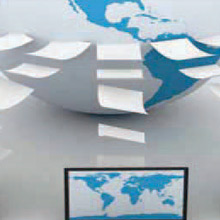 Text Analytics technology in the document management space could change the face of offshore outsourcing within five years, says Peter Wren-Hilton, Co-Founder & CEO of New Zealand-based Pingar, a leading provider of unstructured data management solutions. He challenged the offshore outsourcing industry to prepare for fundamental and disruptive changes in the way that global enterprises would automate significant internal and external document management processes. He said this at the NASSCOM India Leadership Forum 2013 in Mumbai in February 2013.
Text Analytics is the emerging technology that embraces natural language processing, computational linguistics and machine learning. It has the capacity to automate many traditional manual tasks. Algorithms, programmed to read and understand document context like a human, would automate the extraction of relevant text and data from both unstructured and structured data documents, making the current data input and processing roles of many offshore outsourcing firms redundant.
Wren-Hilton encouraged the offshore outsourcing sector to consider ways in which they could support their traditional global enterprise customer base by embracing these changes and providing new services focusing on areas such as analytics and business intelligence.
"The reality is that emerging technologies such as Text Analytics will automate many existing repetitive data entry tasks, completely removing the need to outsource. Significant advances in technology's document understanding capability will enable global enterprises to bring in-house many of the data-driven functions currently outsourced offshore. These are not long-term changes. Many will occur within the next five years."
Pingar is a platform agnostic software company that enables enterprises to identify and extract information from unstructured data and transform it into highly valuable intelligence.